ROMSIM - Romanian Modelling and Simulation Society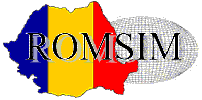 ROMSIM has been founded in 1990 as a non-profit society, devoted to both theoretical and applied aspects of modelling and simulation of systems. ROMSIM currently has about 100 members from both Romania and Republic of Moldavia.

The main objectives of ROMSIM are:
development of new methods and instruments of modelling and simulation of systems,
development of new application of modelling and simulation of both natural systems and those created by man,
development of education
Another important objective of ROMSIM is organization of national scientific events in the field of modelling and simulation and participation at international conferences. In April 1999 ROMSIM has been accepted as an observer member of EUROSIM.
Contact Address
Name
National Institute for Research in Informatics
8-10, Averescu Avenue
011455 Bucharest, Romania
e-mail:
ROMSIM Officers
ROMSIM Founding Members
Dr. Florin STANCIULESCU, ICI - NATIONAL INSTITUTE FOR R&D IN INFORMATICS
Dr. Florin HARTESCU, ICI
Dr. Constanta Zoe RADULESCU, ICI
Dr. Florin Gh. FILIP, Romanian Academy
Prof. Vlad IONESCU, UPB - University Politehnica of Bucharest
Prof. Ion VADUVA, University of Bucharest
Dr. Neculai ANDREI, ICI
Ioan MUNTEAN, ICI
Prof. Paul FLONDOR, UPB
Dr. Mircea SULARIA, UPB
Prof. Dumitru POPESCU, UPB
Dr. Marius RADULESCU, INS - National Institute of Statistics Bucharest
Drd. Cornel RESTEANU, ICI
Dr. Liviu BADEA, ICI
Mat. Electra MITAN, ICI
Dr. Vasile SIMA, ICI
Dr. Theodor Dan POPESCU, ICI
Marius MINCA, ICI
Coralia VOINEA, ICI
Ing. Dan BUZULOIU, ICI
Dr. Carmen BOBEANU, ICI
Dr. Martin WEISS, ICI
Prof. Marcel STOICA, ASE - University of Economic Studies Buchares